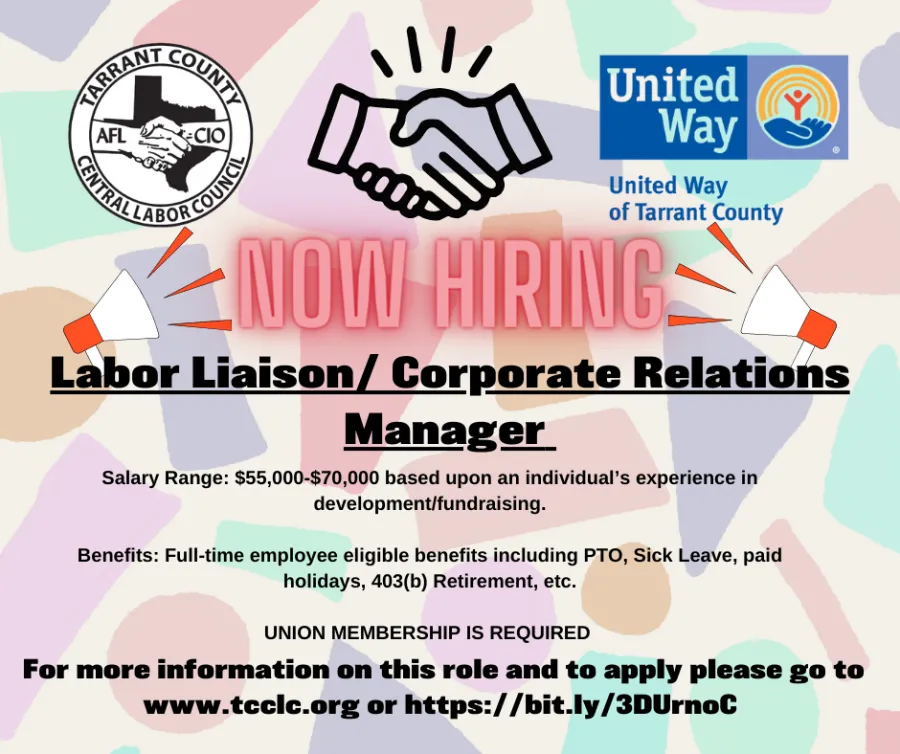 **New Position Available**
Labor Liaison - Corporate Relations Manager
Salary Range:  $55,000-$70,000 based upon an individual's experience in development/fundraising.
Benefits: Full-time employee eligible benefits including PTO, Sick Leave, paid holidays, 403(b) Retirement, etc.
Corporate Relations Manager
Main Office - Fort Worth, TX
Full Time
Education Level - 4 Year Degree
Description
Do you want to help enhance the lives of people throughout Tarrant County? We are looking for a qualified candidate to join our fun-loving, fast-paced team to reach new donors and grow revenue through local companies. 
Position Summary: The Corporate Relations Manager is responsible for building and managing a portfolio of organizations and their employees including those with organized labor/unions through workplace giving opportunities to United Way of Tarrant County directly aligning with their philanthropic, community engagement and corporate social responsibility goals. This position serves as a relationship manager providing guidance, support, and impact throughout the year with the goal of retaining current donors, acquiring new donors, and growing revenue to advance priorities across Tarrant County.
Supervisory Responsibilities: No direct supervisory responsibilities, however, may provide support as needed for Loaned Executives, Campaign Associates or Interns
Essential Responsibilities:
Relationship Management/Workplace Giving
Initiate, build, and sustain positive year-round relationships with key stakeholders (organizational/labor & union leaders, employee donors/prospects and volunteers) within assigned portfolio resulting in engagement, donor retention and revenue growth

Conduct data analysis to identify account strengths and opportunities, develop best practices, and create comprehensive development plans for each organization to secure a set minimum dollar goal each fiscal year

Attend all appropriate events prior to, during, and after the workplace campaign

Participate in regular strategy planning and review sessions with supervisor and other internal stakeholders
Business Development
Provides additional opportunities for organizations to actively support United Way of Tarrant County through grants, event sponsorships, or investments in seasonal programs

Engages in community activities to expand professional network, increase awareness, and initiate with new organizations who can support United Way of Tarrant County

Works cross functionally with development team to develop strategies to maximize and deepen relationships with all organizational employees who have the capacity to give a leadership gift and/or interest in affinity group(s)
Operations
Execution of Development Plan with an eye for new opportunities to achieve goals and drive improvement in process

Ensure account communications, campaign and partnership details are recorded in database to accurately capture all campaign giving, donation results, and volunteer engagement in a timely manner and in coordination with development, finance, and other internal stakeholders as appropriate

Support Director of Corporate Relations, with projects and events as requested

Performs other related duties as assigned
Qualifications
Essential Knowledge, Skills, and Abilities:
To perform this job successfully, an individual must be able to perform each essential duty satisfactorily. The requirements listed below are representative of the knowledge, skill, and/or ability required. Reasonable accommodations may be made to enable individuals with disabilities to perform the essential functions.
Must be eligible to work in the United States (No Sponsorship)

Strong sales and/or fundraising experience with business/organizations

Experience working with organized labor and union employees and their management groups

Knowledge of trends or issues in relevant industries that affect organizational climate or culture and economic environment that could impact workplace giving

Knowledge of communications, presentation, and interpersonal relationship techniques

Ability to interact with diplomacy and tact amid influential constituents and diverse groups

Skill in project management with ability to manage multiple projects simultaneously

Strong computer skills in MS Office (Word, Excel, Power Point, Outlook)

Valid Texas driver's license and reliable transportation

Must occasionally lift and/or move up to 30 pounds with assistance of 2-wheel dolly if necessary
Experience/Education Requirements:
Bachelor level degree in relevant field preferred

Union membership is REQUIRED

2-3 years of experience in sales and/or nonprofit fundraising.
Personal Skills and Attributes:
Excellent leadership, interpersonal and time management skills

Excellent communication skills, including written, verbal and presentation skills

Ability to work independently but values and appreciates team dynamics

An individual with the utmost professional, personal integrity, and able to maintain a high level of confidentiality

Personal values consistent with United Way mission
Work Hours/Environment:
Monday-Friday 8-5PM (flexible hours are permitted due to attendance and participation at early morning, evening, and weekend meetings and special events.) Although remote work is permitted for this position, the individual must reside in North Texas with the ability to work from the office or other required location on a daily basis if needed and when required.
The work environment characteristics described here are representative of those an employee encounters while performing the essential functions of this job. Reasonable accommodations may be made to enable individuals with disabilities to perform the essential functions. Normal office conditions prevail.
About United Way of Tarrant County
United Way of Tarrant County brings people together to build strong communities where everyone thrives. As a nonprofit leader, we help communities tackle tough challenges and work with private, public and nonprofit partners to boost education, financial stability and health resources. We also serve as the regional grantee for Tarrant County's Area Agency on Aging (AAA), invest in and maintain a cooperative relationship with the state's 2-1-1 call center and provide support to local veterans, active military personnel and their families through our partnership with the Texas Veterans Network.
United Way of Tarrant County and AAA employ approximately 75 people dedicated to our mission. We celebrated our 100th anniversary in 2022 and are ready to serve Tarrant County for years to come.
Bottom of Form