Mike Siegel for Congress Joins Growing List of Unionized Campaigns
Mark Maldonado
12 Apr, 2018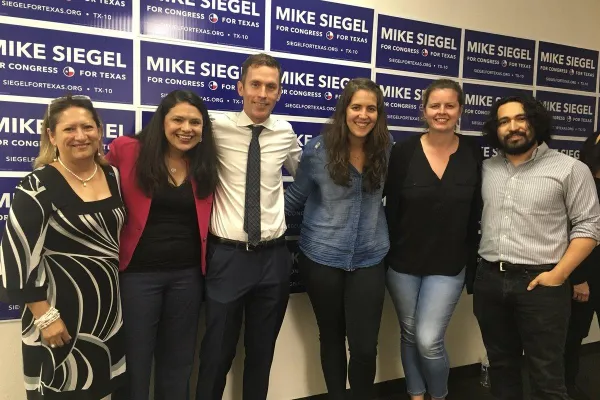 Mike Siegel's campaign for the 10th Congressional District of Texas has recognized a union to represent its campaign workers, joining a growing movement of political campaigns with unionized staff. "Our campaign was built to fight for working people. We support democratic decision-making at every level of society, including here in our own campaign," Siegel announced. "We value the hard work and dedication of our whole team—canvassers, coordinators, and support staff—and we look forward to building up our staff as we go block-by-block to take back the 10th district."
Siegel's decision came on the same day that Paul Ryan announced he would quit Congress and his position as House Speaker -- in the face of a strong challenge from ironworker and union activist Randy Bryce. Bryce, along with Houston Democrat Laura Moser, was among the first campaigns to unionize. Siegel's campaign team will be represented by the United Professional Organizers (UPO), a Texas union backed by the International Brotherhood of Electrical Workers and the Texas AFL-CIO.
Siegel's Field Director, Romteen Farasat, was a founding member of the UPO and proponent of the agreement. "I am proud that the campaign workers of Mike Siegel for Congress have unionized," Farasat said. "Lack of union representation in our industry has led to difficult working conditions like long hours and little pay. I urge other progressive campaigns to put their money where their mouth is and join this nationwide movement to unionize. I am honored to be working on a campaign that values the hard work of its staff and shows it!" 
Background
Mike Siegel is running for Congress to fight for working people, immigrant families, teachers, students, seniors, and everyone whose voices have been excluded from the political process. When elected, he will implement a living wage and reverse the 2017 tax cuts.
Siegel's campaign has been endorsed by the Texas AFL-CIO, the Austin and Houston labor councils, and numerous individual unions representing teachers, retirees, electrical workers, communications workers, municipal employees, and others.
Press contact: Lizza Harrison
lizza@siegelfortexas.org